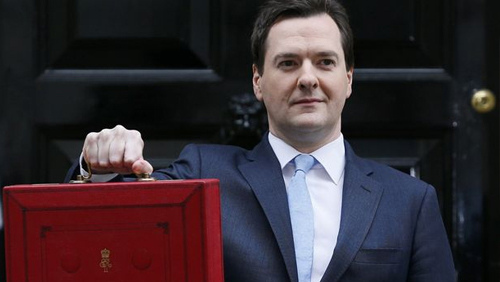 George Osborne has taken the first tentative steps in addressing the UK's childhood obesity crisis by announcing plans for a tax on sugar-sweetened beverages.
The levy, which will start in April 2018, is aimed at high-sugar drinks which are popular among children and young people. The tax will consist of two bands – one for total sugar content above 5g per 100ml and a second, higher band for the most sugary drinks with more than 8g per 100ml.
Fizzy drinks such as Red Bull, Lucozade Energy and Coca-Cola will fall under the higher rate of tax whereas the lower rate would catch drinks such as Dr. Pepper, Fanta and Sprite. Some tonic waters may also be affected. Pure fruit juices and milk-based drinks will be excluded and the smallest producers will have an exemption from the scheme.
Robin Ireland, Director of the Give Up Loving Pop campaign, said:
"We are delighted that the Government has decided to introduce a Sugar Tax. Food Active, together with regional Directors of Public Health, have been calling for a Sugar Tax since the north-west based campaign was first set up in 2013.

"Our Give Up Loving Pop (GULP) campaign was commissioned specifically to raise awareness of the health harms associated with over-consumption of sugary drinks.

"Research has shown that soft drinks are the largest single source of sugar in our children's diets, accounting for some 40% of all sugar consumed by young people. Whilst the most obvious consequence of over-consumption of sugary drinks is tooth decay, excess sugar can also lead to type 2 diabetes, cardiovascular disease and obesity.

"The Sugar Tax is a victory for Food Active's 'Give Up Loving Pop' campaign and all our regional and national colleagues who have been advocating for such a measure. Let this be the first step in a comprehensive, evidence-based strategy to address the childhood obesity crisis."
The tax is expected to raise £520 million a year and will be used to boost school sport, fund breakfast clubs at 1,600 schools in England and allow many secondary schools to extend their day – a possible sticking point for many in public health who feel the revenue generated would be better served elsewhere.
Graham MacGregor, professor of cardiovascular health at Queen Mary University of London, argues that the creation of a powerful new nutritional watchdog to replace the now defunct Food Standards Agency is of paramount importance, rather than increasing sport in schools.
Whilst the benefits of being physically active are well known, MacGregor, chief executive of Action on Sugar, argued:
"The most effective way to tackle obesity is to reformulate products so that we get down [levels of] sugar, the way we've done with salt reduction."
Manufacturers will have to choose whether to absorb the cost of the new levy or to pass it on to consumers. Either way, it is likely that soft drinks companies will continue to, and even accelerate reformulation of their products as there is now a greater fiscal incentive to do so.
However, some corners of public health have highlighted that the Chancellor has opened himself up to lobbying in the two intervening years. Hopefully the threat of Jamie Oliver getting more 'ninja' is enough of a deterrent.